Masaoka Shiki
Meet Shiki and his contemporaries
Find out about the famous Shiki, who loved poetry and baseball, and his friends
Shiki Memorial Museum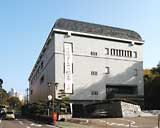 The goal of this facility is to help create a new modern culture founded on a deep understanding of Matsuyama's traditions and history through the life and times of author Masaoka Shiki. The Museum features a permanent exhibit of Shiki's letters, manuscripts, books and other items as well as a lecture hall on the 4th floor where various events are held.
Add 1-30 Dogo Park Matsuyama
Tel 089-931-5566
Fee 400 Yen
P available
Closed Mondays (Tuesdays in case of a National Holiday) and Dec. 29 to Dec. 31
Gudabutsu-an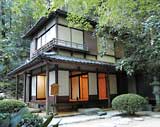 This quiet, rustic edifice, where Masaoka Shiki and Natume Soseki stayed together for 52 days, was relocated and restored behind the Bansuiso garden. Tea is served on weekends and national holidays all day from April to November.
Add 3-3-7 Ichibancho Matsuyama
Tel 089-921-3711 (Bansuiso)
Closed Mondays (Tuesdays in case of a National Holiday) and Dec. 29 to Jan. 5