Sakano-ueno-kumo Museum
Sakano-ueno-kumo Museum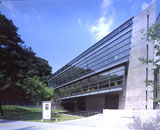 This museum was opened on April 28th 2007. The main facility of the field museum "Sakano-ueno-kumo" exhibits the whole town of Matsuyama as a museum without a roof. The novel Sakano-ueno-kumo, written by Ryotaro Shiba, depicts the growth of Japan as a modern state in the Meiji period, covering the lifetime of brothers Yoshifuru and Saneyuki Akiyama, and Shiki Masaoka who came from the Matsuyama area. The museum exhibits vestiges of these 3 people from the Meiji period who appeared in the novel. Also displayed in the museum is information about the town development and local resources. The museum offers visitors an opportunity to feel and think about these bygone times.
Add 3-20 Ichibancho Matsuyama
Tel 089-915-2600
Fee 400 Yen (Free from children under junior high school age)
P No car parking space available.
Closed Monday, except for the first Monday of each month, then the following Tuesday is closed. (The following day if it falls on a national holiday)