Others
The Greater Matsuyama area... lots to see and enjoy!
You'll hear the clickety-click of "Botchan" trains taking Buddhist pilgrims in and out of this quaint town full of character and style.
Bansuiso Villa
This French-style structure was built in 1922 as the country estate of Hisamatsu Sadakoto former Lord of the Matsuyama Clan. Presently, it is used as an annex to the Ehime Prefectural Museum of Art and bestows upon all its visitors a glimpse into the romantic Taisho Era.
Add 3-3-7 Ichibancho Matsuyama
Tel 089-921-3711
Closed Mondays (Tuesdays in case of a National Holiday) and Dec. 29 to Jan. 5
Matsuyama Central Park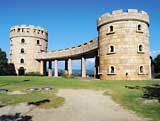 Serving as an environment where people and nature can come together, the park features a European style fort offering a beautiful 360° vantage point from which all of Matsuyama can be seen. It also features playground facilities for children.
Add 1-1633-2 Asahigaoka Matsuyama
Tel 089-923-9439 (Matsuyama General Park Management Office)
Koshin-an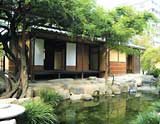 Kurita Chodo, a close friend of Kobayashi Issa, constructed this small, rustic edifice in 1790 to perform the Japanese traditional tea ceremony. Its garden, fashioned after Matsuo Basho's "Genjuan", and its "fujidana" hanging wisteria vines are truly beautiful. Part of the structure was restored to preserve its original form and the site was renamed "Koshin-an Historical Garden".
Add 2-6-7 Misakecho Matsuyama
Tel 089-915-2204 (Koshin-an Historic Park)
Fee Free
Closed Wednesdays
Isaniha Shrine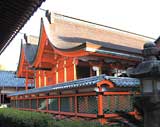 In 1667, the Shogun ordered Matsudaira Sadanaga, 3rd Lord of the Matsuyama Clan, to build this shrine as a token of acknowledgement for his achievements at the art of "Yabusame" (mounted archery). Its outer gate, corridor, inner chamber and main hall are typical of the Japanese "Hachiman" architecture style. The cinnabar colored main hall is most striking. (This shrine is the 3rd largest of its kind in Japan.)
Add 173 Sakuradanicho Matsuyama
Tel 089-947-7447
Tsurishima Lighthouse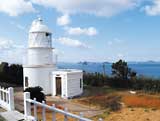 Built in 1873 over Tsurishima, an island off the coast of Matsuyama, this stone lighthouse is one of only 3 lighthouses in the Seto Island Sea. Originally designed by British engineer R.H. Branton, it was designated as a cultural asset in 1995 by the City of Matsuyama. Unfortunately, there is only one ferryboat per day leaving from Mitsuhama Harbor to the island.
Add Tomarimachi Matsuyama
Ehime Children's Castle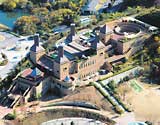 This expansive, 35-hectare facility is divided into 5 zones all conceived to tickle the funny bone of children of all ages. The area is perfect for families who come to enjoy the beautiful natural surroundings and for couples wanting to partake in a romantic stroll around the premises.
Add 108-1 Otsu Nishinocho Matsuyama
Tel 089-963-3300
Closed Mondays (Tuesdays in case of a National Holiday) and Dec. 29 to Jan. 1
Ehime Prefecture Tobe Zoo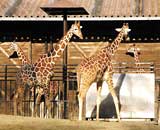 Boasting some 1000 animals of 195 species handpicked and arranged in order based on geography, taxonomy and behavioral science, this facility is the biggest and best zoo in West Japan. Experienced animal keepers will politely guide you through and let you enjoy a fun day with the animals.
Add 240 Ueharacho Tobe Iyogun
Tel 089-962-6000
Closed Mondays (Tuesdays in case of a National Holiday) and Dec. 29 to Jan. 1