Dogo Hot Spring
Enjoy the rich history of our city of hot springs.
Soak yourself in the soothing hot baths, a Japanese cultural asset, and enjoy the charm and, romance of our town.
Dogo Hot Spring
(hot springs main building)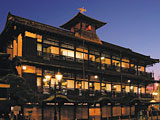 A proud symbol of the Dogo Onsen Hot Springs resort area and a vestige of bygone days, this 3-tiered "Sansoro" style roof wooden building was completed in 1894 and, since then, has been visited by millions from all over the country.
On its Centennial in 1994, it was designated as an important cultural asset, the first hot springs facility to obtain this honor in Japan. There are many ways to enjoy this historical edifice. Whether soaking in the hot baths, resting in the guest rooms or touring the grounds, you'll be glad you came to this marvelous piece of Japanese heritage. The atmosphere created by its gushing water and mist was selected as one of the "Best 100 Sounds of Japan".
Add 5-6 Yunomachi Dogo Matsuyama
Tel 089-921-5141
Kami-no-yu and Tama-no-yu
(water of the gods and water of the spring)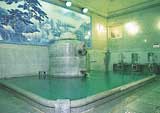 Kami-no-yu (for men)
Come enjoy the public bathhouse atmosphere of the "Kami-no-yu". Upstairs, you'll find a large, open area made for onsen-goers to change into a "yukata" cotton bathrobe and relax while sipping tea and eating sweet cakes. The "Tama-no-yu", on the other hand, is an elegant facility featuring private hot baths and famous for its Botchan Dango rice dumplings and chic atmosphere. (Rates for private baths vary.)
Yushinden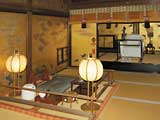 Located east of the Honkan (main building), this beautiful Momoyama Era style structure was built-in 1899 to house a hot bath exclusively for the Japanese Imperial Family. Inside, you'll behold stunning gold painted scrolls adorning the walls, a Korean style tree-tiered paulownia wood ceiling and other dazzlingly flamboyant features. The bath itself was fashioned out of the best "aji" stone available at the time. Come feast your eyes at this marvelous sight.
Dogo Onsen Station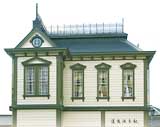 This train stop, also known as the doorway to the Dogo Onsen Hot Springs, embodies all the innocent charm of the Meiji Era and stands out admirably as a landmark within the picturesque Hot Springs Resort District. Along with the "Botchan" train operations, you'll be guided around the station area by the Botchan, Madonna and Red Shirts.
Botchan Karakuri Clock
( cloclwork mechanism )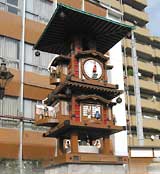 Erected in the Hojoen Square in front of Dogo Onsen Station as part of Dogo Onsen Honkan's Centennial in 1994, the Karakuri Clock features lovely little figures
reenacting a scene from the novel "Botchan" (Natsume Soseki) every hour from 8 am to 10 pm.
Show times: 8 am to 10 pm (in principle every hour)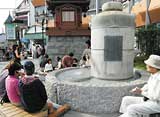 Feel free to stop off and give your hands and feet a rest in this magnificent mini hot spring located right in Hojoen Square near the station and clock. You'll always see plenty of people sitting on benches around the bath dipping their tired feet in the hot water spewing from a Meiji Era iron pot.
Dodo Park
(Yuzuki Castle Ruins)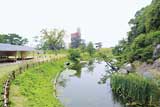 Once the medieval residence of Shugo Kono in what used to be Iyo Province, the historically significant Yuzuki Castle Ruins features an extensive reference library and fully restored samurai compound. Famous for its cherry trees, springtime brings with it throngs of blossom viewers who transform the park into a lively, pink oasis.
Add Dogo Park Matsuyama
Tel 089-941-1480 (Yuzuki Castle Reference Library)