Matsuyama Castle
Go where the lord's palace once stood and unleash your imagination.
A beautiful castle dominating the cityscape
Matsuyama Castle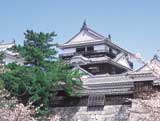 This ancient fortification, part of the Hirayama Castle Coalition of Japan, was completed by Katosama-no-suke Yoshiaki in 1627. Its turrets and other parts destroyed by fire or bombardment over the centuries have been completely restored in the original wooden construction and remains today in pristine condition just as it was. Come get a fantastic bird's-eye-view of Matsuyama from the tower.
Add 1 Marunouchi Matsuyama
Tel 089-921-4873 (Matsuyama Castle Central Office)
Matsuyama Castle Ninomaru Historical Garden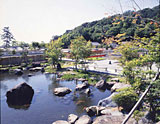 The ruins of the Matsuyama Clan Lord were restored and flowers, trees, grass and water were used to create the "Sokaen" garden occupying the main front area of the ruins and the "Ryusuien" garden in the back with the aim of giving new life to this old site. It is also used for nocturnal "No" performances to the flickering light of bonfires, a favorite form of entertainment in medieval times.
Add 5 Marunouchi Matsuyama
Tel 089-921-2000
The Gates of Matsuyama Castle
These great castle gates played an important strategic role in medieval times. There are the "Kakure-mon" gate, "Tonashi-mon", "Shichiku-mon", "Ichi-no-mon", "Ni-no-mon", "San-no-mon" and "Shikiri-mon" gates, designated Japanese cultural assets, as well as the "Inui-mon", "Tsutsui-mon", "Ushitora-mon", "Taiko-mon" and "Sujigane-mon" among others. Gates destroyed in past hostilities were restored to their original likeness.

Tonashi-mon (a designated Japanese cultural treasure)

Sujigane-mon

Ichino-mon (designated Japanese cultural asset)

Shichiku-mon (designated Japanese cultural asset)

Taiko-mon

Kakure-mon (a designated Japanese cultural treasure)

Tsutsui-mon

Ushitora-mon