Craftworks
Hime-daruma dolls / Hime-temari(silk balls)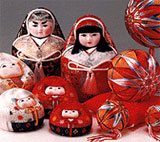 Hime-daruma dolls were originally made and dedicated in the childhood image of Emperor Ojin because his mother, Empress Jingu, visited Dogo Hot Spring when she was pregnant. They are given as good luck charms for easy delivery of babies and their good health. Hime-temari(silk balls), made to bring good fortune to the person who keeps them, are made by hand-wrapping silk threads of different colors. These crafts,filled with both the craftsman's gentle spirit and techniques, are believed to bestow happines.
Iyo-Kasuri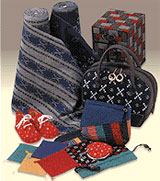 Iyo-kasuri, along with Kurume and Bingo-kasuri, is one of the three main kasuri in Japan. It has long been loved because of its simple style, the strength of its cotton, and its beautiful indigo color and elaborate patterns. The beauty of indigo is utilized not only for kimono, but also small items of interior general merchandise, and the products made of Iyo-kasuri have become abundant and represent a great variety.
Bamboo craft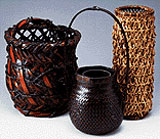 Ehime Prefecture produces much bamboo of good quality and bamboo craft is elaborately hand made piece by piece by a craftman. It is believed that bamboo crafts originated here when Prince Shotoku was impressed with the abundant bamboo forests and taught meshworks to the local people. The more you use these bamboo crafts, the deeper the bamnboo's quaint becomes.
Suigetsu-yaki Pottery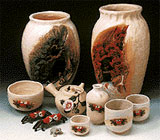 This pottery has the distinction of its hand-made style. The name of Suigetsu(water & the moon)was named after the moon shape reflected on the moat of Matsuyama Castle. It was begun by Tsunekata Yoshikawa in the Meij era, and a crab, frog, camellia or landscape sculpture are carved on them, and this artcraft combining carvings and pottery has a calming effect.
Rakuzan-yaki Pottery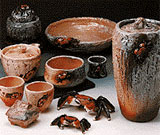 It is said that this pottery dates back to when Sadanaga Matsudaira, the lord of Matsuyama Castle,first came to make crab earthenware in his garden. The pottery pieces have a crab carving on them, which as one of the characteristics; the crab which inhabits a torrent looks strong and has great expression, is carved and painted on each with care one by one and is put into the kiln. Extensive study has been done to make the color of the crab a sharper red.